The first thing I want to say about a restaurant is that the food was delicious. The last thing I want to say about a restaurant is that my table waited 20 minutes to put in drink orders, or that I found a hair in my soup. All three things I've mentioned so far are true about my recent visit to the Park Plaza Gardens in Winter Park. My family and I had never been to the Park Plaza Gardens, so I thought the Mother's Day prix fixe dinner menu would be an ideal way to try out a new restaurant. The idea was sound one, but execution was a bit off on the restaurant's part.
My party arrived several minutes early for our dinner reservation, but the restaurant didn't look terribly busy. We were seated immediately, given menus, and then promptly forgotten about for almost twenty minutes. I flagged down the hostess that seated us, she apologized, and waved down a waiter. Service was a little touch-and-go until we put in our food orders almost thirty minutes after we were seated.
The Prince Edward Island Mussels Provencal were my first course, drizzled in a light white wine lemon butter sauce. Each mussel was plump and juicy with a light hint of lemon. The butter and herbs were subtle and complimented the mussels instead of overwhelming them. Adam and my sister ordered a plate of plump bay scallops in an savory butter sauce. My mom and I then had the chef's hearty potato leek soup garnished with fresh green onions. I loved the soup, but did not like the single strand of hair at the bottom of my bowl. The waiter brought over a fresh bowl in a few minutes, and I was back to enjoying one of my favorite comfort foods.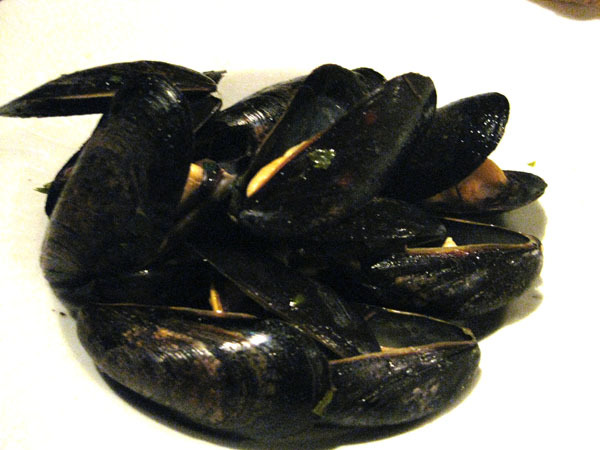 My entrée of sautéed veal, which was breaded, fried, and topped with hollandaise sauce was fine, but the veal didn't taste like anything except breading. The side of peppered vegetables broke up the strong flavor of the hollandaise sauce, although I would have liked a thinner sauce to compliment the veal.
The desserts were all fabulous! The House-Baked Cream Puff was a little more toasted and less puffy than I expected, but the vanilla ice cream and fudge sauce pairings really pushed my buttons in all the right ways. Adam and my mom both ordered the Lemon Berries Mascarpone Cake, and they graciously shared a few bites with me. The words that come to mind when I think of that cake are "lemon-berry dream". There cake also had a few fantastic creamy layers with a cheesecake consistency. If I could order a whole birthday cake made out of this Lemon Berries Mascarpone Cake, I would.
I appreciate that the dinner menu covered an interesting gamut of sauces across the savory and sweet spectrums. The mussels were the best mussels I've ever had, and even the bread basket was stand-alone delicious – the spicy cheese crostinis were my favorite. Every dish evenly cooked and packed with interesting flavors, but it will be hard to convince myself to go back to Park Plaza Gardens because of the spotty service. I thought the service on Mother's Day could have been a fluke, but one of my coworkers said she has also had bad service at Park Plaza Gardens as well. Maybe one day I'll revisit this restaurant, but not one day soon.
Park Plaza Gardens • Yelp • Google Maps
T: (407) 645-2475